The Old Dominicans Association
Cymdeithas Yr Hen Ddominiciad
Ysgol Friars, or Friars School was originally a Grammar School for Boys, established in 1557 by Dr. Geoffrey Glyn, utilising the old Friary building of the Dominican Order in Bangor. The building had become available for re-use, after the Friary was wound up in 1538 as part of the Dissolution of the Monasteries by King Henry VIII
As far as we can ascertain, the School had an 'Old Boys Association' for a very long time; traditionally organised by the school to enable former pupils to keep in touch.
The last Association fell by the wayside late in the last century and the few hundred pounds left in the kitty was donated to Friars School in 1997 to assist in the conversion of the old Lecture Room into a library and in the purchase of new books. Where possible, the Association seeks to award the sitting Headmaster / Headmistress with a financial donation, called the 'Cledwyn Jones Bursary', in honour of our much cherished President, and former Friars Schoolmaster.
The present day Association is run by its members, and is open to all ex-pupils of Ysgol Friars / Friars School; Those with some other link with the school may be eligible to join us as a 'Friend'.
We currently have over 160 Members and Friends Worldwide.
Background History
In May 1999 the old school building on Ffriddoedd Road closed its doors for the last time as 'Ysgol Friars' and the building was sold to Coleg Menai. Just before closing the school held a very successful open day on Saturday 8 May followed by a reunion dinner in the evening at the Bangor Cricket Club premises at Ty Newydd, Llandegai. Many of those present hoped that similar reunions would be held in the future. It was felt that the best vehicle to keep the momentum going would be the re-establishment of the Old Dominicans Association, with its main object being to maintain contact between former pupils by producing a bi-annual Newsletter about the activities of the school, its former pupils and staff, and by organising reunions.
A small number of ex-pupils met and discussed the issues and resolved to contact all those who attended the open day and dinner to invite them to become members of the reformed Old Dominicans' Association. The last Association disbanded some years previously, and the remaining funds donated to the school.
The ODA website is a mine of information about our activities, such as the bi-annual General Meetings, Dinners and archive material including current and past editions of The Dominican magazine, photographs, press cuttings etc. which we hope will be of interest to both the older and more recent school leavers. In addition, we have a members' forum, where you can leave your views, ideas and suggestions, together with your tales from your school days, or maybe seek out an old friend.
The ODA also has a walking club called the Rucksack Club, which meets each month, usually on the last Friday. Members take part in gentle and more moderate walks, in our beautiful North Wales hills and vales. The walks are always friendly and convivial occasions, even in the occasional bad weather, and there is no charge! Details appear in our Newsletters and also on the web site News and Events pages. New members are very warmly welcomed.
The ODA committee are a representative group of members who meet three or four times a year, in the Bangor area, and welcome your input as a member. If you know of any other ex Friars pupils who might be interested in becoming a member it would be much appreciated if you could pass on details of what we are doing so that we can cast the membership net as widely as possible.
We hope that you find the ODA a source of pleasure and continuing interest to you and your family.
Elfyn M Edwards
ODA Secretary
Friars School History
/
Hanes Ysgol Friars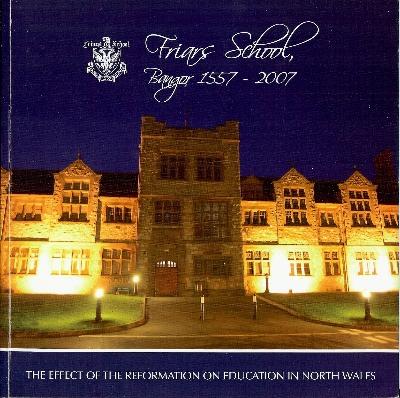 Special Offer:
A Full Colour updated History of Friars School RRP £9.99 is now available.
Special ODA web price of £7.95* inc. pp. For each book sold £1.00 goes to the ODA funds.
Contact Us with your details and we will process your request accordingly. Alternatively, you may purchase via PayPal:
* PayPal Charges - Extra
NB:
External Links are provided for your convenience. The ODA is NOT responsible for the content of external websites.
More Historical information are available in our Members' Pages.
Secretary and Newsletter Production Editor
Archive, Website & Membership Coordinator
Assignments /Welsh Affairs