Rucksack Club Navigation Buttons
About the Rucksack Club
The Rucksak Club are mostly ODA members and Friends who meet every month - usually on the second and fourth Friday of the month, for a walk and refreshments, lasting a few hours, depending on the day.
The walks undertaken are usually a few miles in length, but undertaken at a gentle and leasurly pace. These are an opportunity for members to meet informally and enjoy a good walk, normally linked to some local historical significance and often followed by a cuppa' (or something stronger if you wish) somewhere. Those who cannot manage the walk, could always meet the others for the refreshments only!
A diary of our forthcoming walks will appear in the ODA News and Events page - Be that posted as a Newsfeed and / or a calendar entry in the ODA Event's Calendar. Please keep an eye on changes to any of the ODA events, as published onto that page.
Some of our walks will be 'blogged' in our 'Recent Walks' newsfeed Page and some photos will appear there, a selection of which will also be archived in the Rucksack Club Photo Album.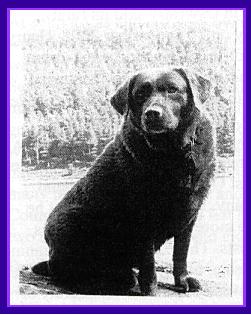 Joe Brown (1999-2008)
Joe Brown, a Labrador, was the official mascot of the Rucksack Club. Sadly, he passed away in August 2008.
JIM
This is a photo of Jim, pictured with Crib Coch in the background. Jim is the newly adopted mascot of the Rucksack Club, and accompanies them on their numerous walks. Apparently, he relies on one member in particular, to take an extra pork pie with them!